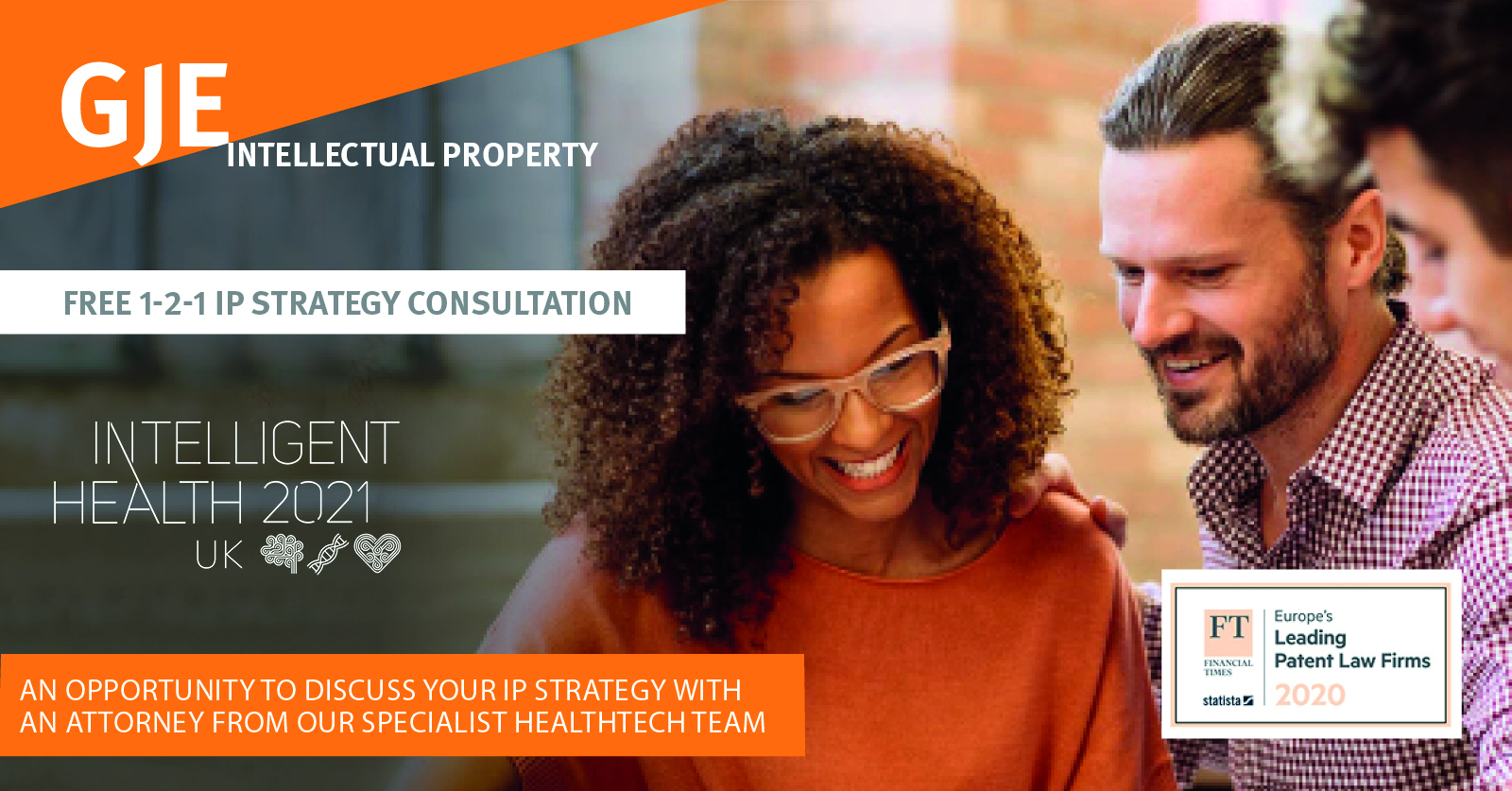 GJE x Intelligent Health UK - Intellectual Property Consultation
In association with Intelligent Health UK 2021, Gill Jennings & Every LLP (GJE) are offering free IP consultations to the Intelligent Health community.
Who are GJE?
Gill Jennings & Every (GJE) are a firm of European Patent, Trade Mark & Design Attorneys. We act throughout the UK and EU – through both our London and Munich offices. In 2020, we were ranked in first place in the Financial Times' listing of leading European Intellectual Property firms. Our specialist HealthTech team work with an extensive and varied list of clients - from early-stage start-ups, university spin-outs and HealthTech investors to multi-national MedTech companies. We have particular expertise in advising clients applying the latest AI innovations to solving problems in healthcare.
The rapid pace of HealthTech innovation during 2020 and 2021 has been well documented. During this period, more patent applications were filed for medical and health technology than any other field. We have seen particular innovation in the application of the latest machine learning technologies to solving problems in healthcare and a significant focus of our HealthTech group is working with these innovators to secure protection for their AI technologies - to support their commercial aims and the widespread adoption of these new techniques.
What does an Intellectual Property Consultation Involve?
We encounter frequent misconceptions around the best route to secure protection for AI-based healthtech inventions. An Intellectual Property Consultation provides an opportunity to discuss your specific IP strategy in confidence with a member of our specialist HealthTech team. Common focus points include:
Is your AI innovation patentable and, if so, is patent protection the right option to support your commercial aims?
How can you identify and assess protectable inventions in the future?
Are there any ownership issues, for example due to your technology being developed in cooperation with a third party?
Are there any other relevant forms of IP, such as trade marks, designs or knowhow?
These sessions are directed at those involved in innovation across the AI and HealthTech community - they can give some initial direction to early-stage companies seeking to lay the foundations of a IP strategy, provide a second opinion on the IP portfolio of more established companies and provide informed guidance to investors on carrying out IP due diligence relating to potential healthtech investments.
Some of the companies we work with in the Medical & Health Technology field include:
Abbott Laboratories
Skin Analytics
Digital Health London
Novoic
Imperial College Innovations
Read our thought leadership articles for the HealthTech sector here
Find out more how we can help your HealthTech business here