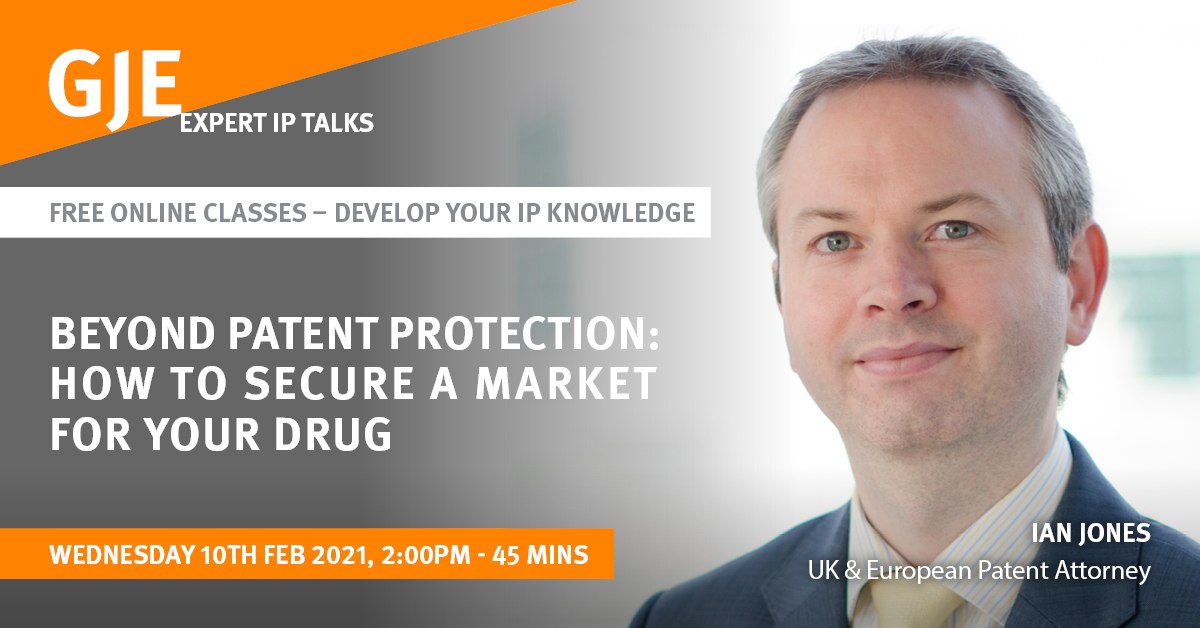 Beyond Patent Protection: How to Secure a Market
for your Drug
Wednesday 10th February 2021, 2:00pm (London UK - GMT) 45mins
What will the talk cover?
GJE Expert IP Talks will be delving into all of the core areas of IP practice. The focus will be on UK and European systems but we will also cover the worldwide context.
This talk focuses on the mechanisms for securing market exclusivity for pharmaceutical products beyond patent protection in Europe, with a particular focus on the UK.
Securing market exclusivity is an essential step towards a profitable product, and helps to recoup the significant costs associated with taking a drug to market. Many countries offer a range of mechanisms that primary innovators can use to protect their assets from generic drug competition. Those mechanisms include Supplementary Protection Certificates (SPCs), data exclusivity, and orphan exclusivity, and are specifically designed to compensate companies for the delay in obtaining marketing authorisation for their product, thus incentivising research into the next generation of pharmaceuticals.
Who will be speaking?
Ian Jones is a European and Chartered UK Patent Attorney. He specialises in the pharmaceutical and industrial chemistry sectors, and extends his reach into related sectors, like biotechnology and medical devices.
Working with a wide range of clients, Ian guides start-ups through the fundamentals of IP, helping them understand how IP can support their business. He assists spinouts and SMEs to establish and develop their IP portfolios, and has helped multinational corporations by delivering clear and actionable recommendations on their IP. Ian's commercial advice is supported by a wealth of experience in patent drafting and prosecution in the UK, Europe, the US and East Asia.
Clients say that Ian is "the most approachable person which is really important because as things keep evolving I have to know I can get hold of him to discuss things with him", and "Ian is always very responsive if we have urgent requests … I know I can rely on Ian to have the latest and most accurate information when I need it".
Who are GJE?
Gill Jennings & Every (GJE) are a firm of European Patent, Trade Mark & Design Attorneys. We act throughout the UK and EU – through both our London and Munich offices.
We are recognised as a leading European IP firm by the Financial Times. In addition, we have received five Gold Awards for our work in the following industry sectors: Chemistry & Pharmaceuticals, Electrical Engineering, IT & Software, Materials & Nanotechnology, and Mechanical Engineering; as well as a Silver Award for our work in the Biotechnology and Food industries.
We work with an extensive and varied list of clients - from early-stage start-ups all the way through to global brands, and everyone in-between.
Clients include Procter and Gamble, producer of many of the UK's most well-known household brands. GJE prosecutes and defends a very active, high-value IP portfolio of currently over 1500 patents and patent applications across 70+ countries for the world's leading banknote supplier, De La Rue.
Some of our clients in the Biotech and Pharma industry include:
Immodulon Therapeutics
Prokarium
Randox Laboratories
Rockwool International A/S
Imperial College Innovations
Oxford University Innovations
Mylan
Some of our other well-known clients include:
MasterCard
Hasbro
Xerox
Micron Technology
Filing a well-prepared patent, trade mark or design registration may be critical to the future of your business. How it is written defines not just your innovation or identity but also the competitive landscape you wish to operate in. But there is more to intellectual property than filing a document. Other things to consider will include the amount of potential or unidentified IP in your business; the level of competition in your industry; licensing the technology to others; and key target markets. GJE's attorneys consider all these issues and provide solutions to both grow and protect your business.
Please submit the form to be sent the link to the webinar and submit any questions you would like answered within the session.