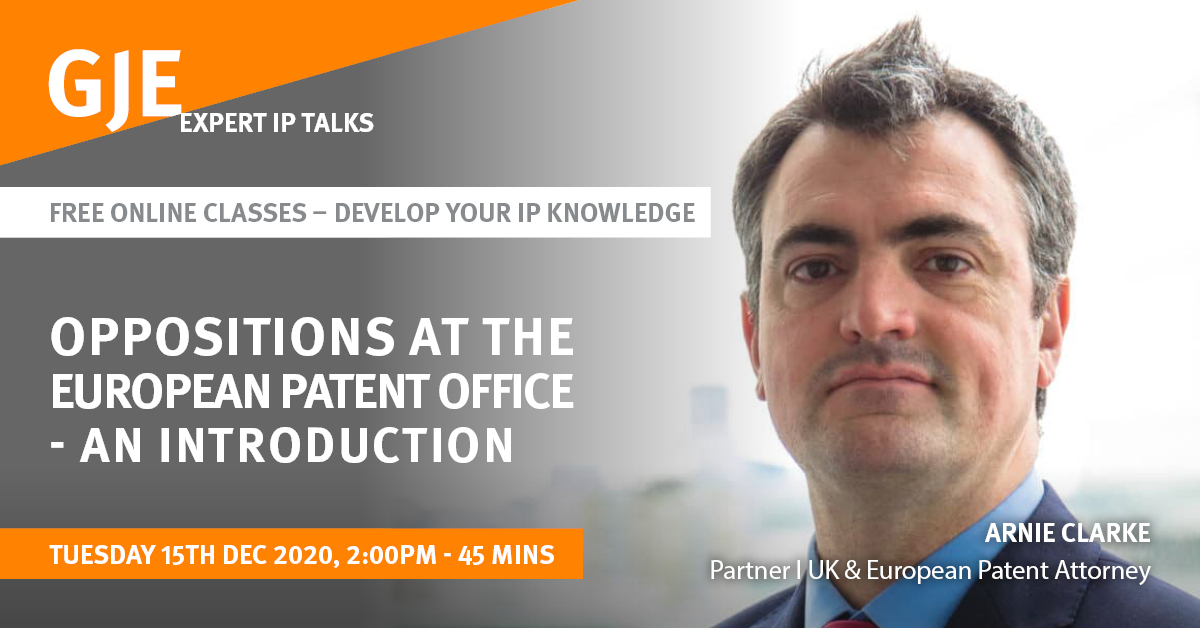 Oppositions at the European Patent Office - An Introduction
Tuesday 15th Dec 2020, 2:00pm (London UK - GMT) 45mins
What will the talk cover?
Gill Jennings & Every has one of the most experienced and active patent opposition practices in Europe, and has an enviable reputation to show for it. Since conception, GJE's opposition's group have handled over 1100 oppositions.

This talk in the series will offer practical guidance from Arnie Clarke, who lead GJE's oppositions practice.  He will discuss what the opposition procedure is, why it should be used, and provide an outline of how it works.

Whether you work as in-house counsel or in overseas private practice, you should find the talk to be an aid in deciding whether to oppose third party patents, and how to do so in a strategically effective way.
Who will be speaking?
Arnie Clarke - Partner
Arnie works in the fields of pharmaceutical, medicinal, industrial, food and organic chemistry, with particular expertise in small molecule pharmaceutical chemistry, secondary formulation of pharmaceutical products, drug repurposing and industrial formulation chemistry.

Arnie is an oppositions and appeals specialist, having been involved in over 300 oppositions. He currently attends between 15 and 25 hearings per year at the EPO. He regularly deals with multi-party proceedings and has experience in handling and supporting contentious cases involving parallel proceedings in multiple jurisdictions.

He also acts as an expert witness on legal procedure at the EPO, having represented a number of clients in national litigation.

Arnie has been involved in a number of leading cases at the EPO over the last couple of years. Of note, he led the opponent strategy to obtain revocation Bristol-Myers Squibb's (BMS) European patent no. 1169038, which claimed the $1.6 billion a year anti-cancer drug dasatinib, aka Sprycel®. He has also obtained revocation of a series of key Biogen patents covering the $4 billion a year Tecfidera® multiple sclerosis drug.
Who are GJE?
Gill Jennings & Every (GJE) are a firm of European Patent, Trade Mark & Design Attorneys. We act throughout the UK and EU – through both our London and Munich offices.

Our strong reputation in oppositions, whether defending our clients' rights or attacking our opponents' claims, is built on a record of wins which is second to none. Between 2013 – 2019 we have achieved significant success rates, with 57% of all cases opposed by us during this period being revoked, and only 14% being maintained as granted, compared to the EPO oppositions average of 39% and 29% respectively. Similar levels of success have been achieved in defending clients' patents, where we have maintained 31% of patents as granted, against a UK firm average of 22%.

We are recognised as a leading European IP firm by the Financial Times. In addition, we have received five Gold Awards for our work in the following industry sectors: Chemistry & Pharmaceuticals, Electrical Engineering, IT & Software, Materials & Nanotechnology, and Mechanical Engineering; as well as a Silver Award for our work in the Biotechnology and Food industries.

We work with an extensive and varied list of clients - from early-stage start-ups all the way through to global brands, and everyone in-between. 

Some of our well-known clients include:

MasterCard
Mylan
Procter and Gamble
De La Rue
Hasbro
Xerox
Micron Technology

Please submit the form to be sent the link to the webinar and submit any questions you would like answered within the session.