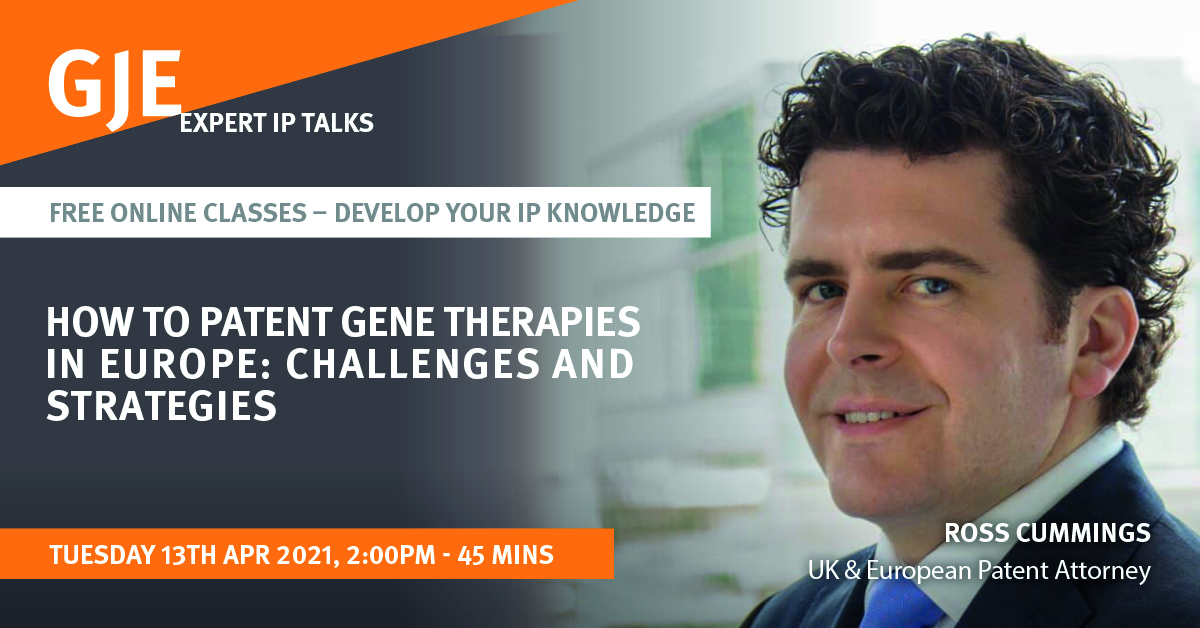 How to Patent Gene Therapies in Europe: Challenges and Strategies
Tuesday 13th April 2021, 2:00pm (London UK - BST) 45mins
What will the talk cover?
Gene therapies are taking medicine by storm. Very large investments are being made across the world in both start-up gene therapy companies and in gene therapy research by established pharmaceutical companies. This technology offers potentially "curative" medicine that is capable of not only relieving symptoms but actually correcting the precise cause of disease, particularly in monogenic disorders.
Patents are essential for securing investment for developing new medicines but they must be commercially relevant and support business growth. Medicines like gene therapies that are personalised to the patient can present challenges when it comes to establishing commercially relevant patent protection, and it is therefore essential that a strategic approach is taken.
In this talk, Ross will discuss the challenges in Europe and strategies for addressing these, with reference to specific case studies. This talk will likely appeal not only to European founders, inventors and investors in the personalised medicine space but also non-European companies and attorneys looking to understand European patent protection in this exciting and rapidly developing field. The talk will also touch on some non-patent related aspects of protection available in Europe for these technologies.
Who will be speaking?
Dr Ross Cummings is a Chartered and European Patent Attorney. He specialises in the biotechnology, pharmaceutical and medical device sectors, with a particular interest in immunological approaches to disease prevention and cure, and biotechnological approaches to food production.
Ross works with a wide range of clients from small start-ups and universities to more established firms in the UK and Europe. His core practice is drafting and prosecuting patent applications in Europe and worldwide but Ross also has significant experience in investment due diligence both in private practice and in-house. Ross works closely with management teams to devise and execute a patent strategy that supports their commercial goals. Ross also has a very strong track record of success in both defending and attacking granted patents in opposition proceedings at the European Patent Office. Ross' clients appreciate his commercially focused, clear and detailed guidance.
Who are GJE?
Gill Jennings & Every (GJE) are a firm of European Patent, Trade Mark & Design Attorneys. We act throughout the UK and EU – through both our London and Munich offices.
We are recognised as a leading European IP firm by the Financial Times. In addition, we have received five Gold Awards for our work in the following industry sectors: Chemistry & Pharmaceuticals, Electrical Engineering, IT & Software, Materials & Nanotechnology, and Mechanical Engineering; as well as a Silver Award for our work in the Biotechnology and Food industries.
We work with an extensive and varied list of clients - from early-stage start-ups all the way through to global brands, and everyone in-between.
Clients include Procter and Gamble, producer of many of the UK's most well-known household brands. GJE prosecutes and defends a very active, high-value IP portfolio of currently over 1500 patents and patent applications across 70+ countries for the world's leading banknote supplier, De La Rue.
Some of our clients in the Biotech and Pharma industry include:
Immodulon Therapeutics
Prokarium
Randox Laboratories
Rockwool International A/S
Imperial College Innovations
Oxford University Innovations
Mylan
Some of our other well-known clients include:
MasterCard
Hasbro
Xerox
Micron Technology
Filing a well-prepared patent, trade mark or design registration may be critical to the future of your business. How it is written defines not just your innovation or identity but also the competitive landscape you wish to operate in. But there is more to intellectual property than filing a document. Other things to consider will include the amount of potential or unidentified IP in your business; the level of competition in your industry; licensing the technology to others; and key target markets. GJE's attorneys consider all these issues and provide solutions to both grow and protect your business.
Please submit the form to be sent the link to the webinar and submit any questions you would like answered within the session.