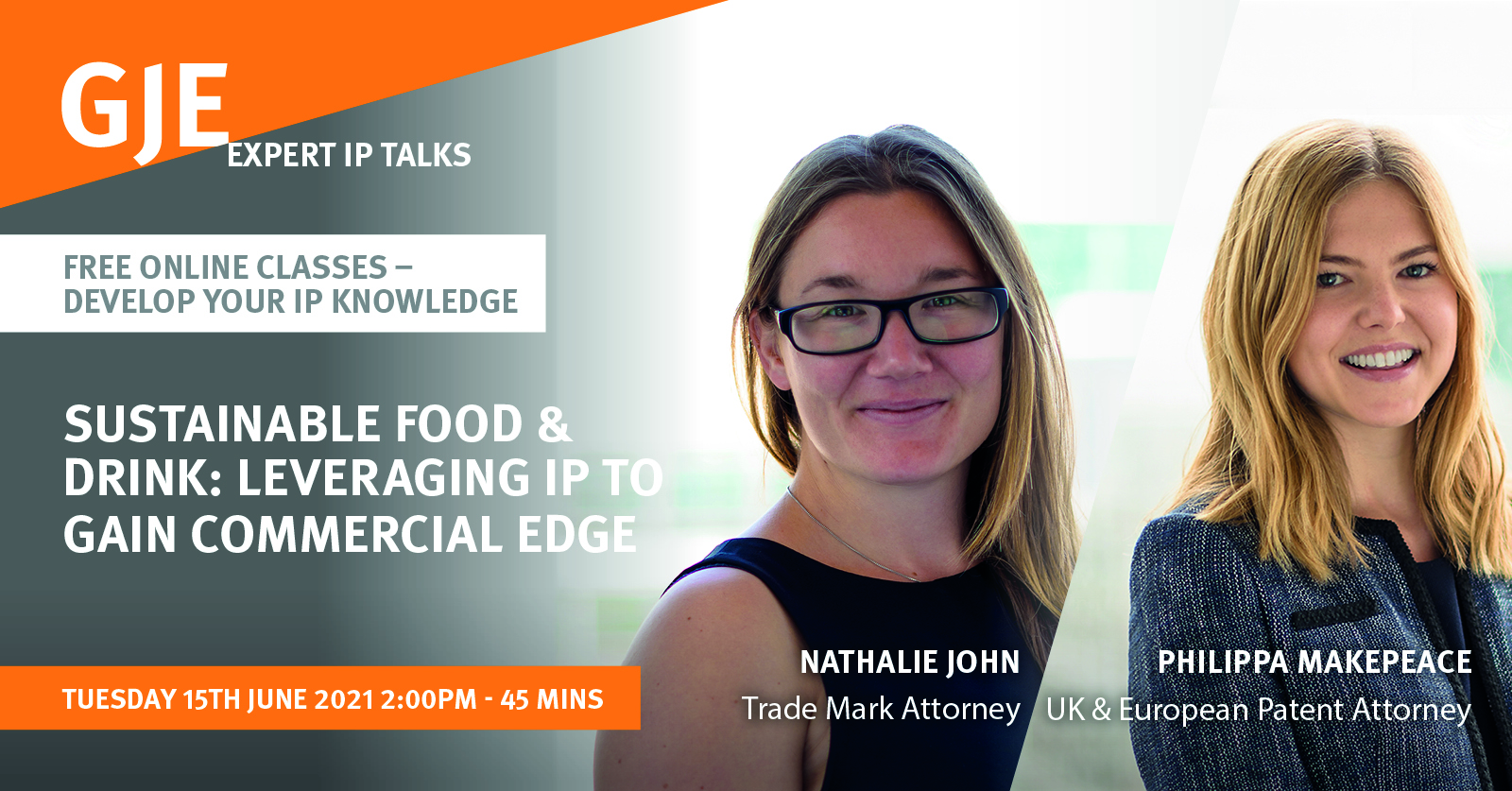 Sustainable Food & Drink: Leveraging IP to Gain Commercial Edge
Tuesday 15th June 2021, 2:00 pm (London UK - BST) 45mins
What will the talk cover?
The food and drink sector intensely impacts and has a high dependence on the environment, economy and society. Over recent years, environmental, lifestyle and health considerations have become key factors in driving consumer spending toward sustainably produced and packaged food and drink products. With this growing demand from consumers for greener products and an increased awareness of our collective social responsibility, food and drink businesses have a notable part to play in finding viable solutions. Whether new or more established, businesses need to respond proactively and capitalize on any advances to gain a commercial edge. However, this fast-moving and highly competitive market has many challenges. How do businesses maintain economic success whilst improving environmental and social performance?
This webinar will explore the ways in which food and drink businesses are looking to drive this change, and how investment in intellectual property can assist in translating their efforts and resources into reward, leveraging their position in the market and boosting brand reputation.
Who will be speaking?
Nathalie John assists clients with all aspects of their branding, from the initial selection and clearance of a trade mark, through to filing and registration and advises on matters of enforcement, including infringement, and oppositions at UK and EU level. She works with clients from start-ups through to multinationals across a wide range of industries, although she has particular experience in the agrochemical, medical device and cosmetics sectors.
Nathalie also has experience of securing registered design rights worldwide and of enforcing both registered and unregistered design rights in the UK and EU.
Philippa Makepeace handles cases in a range of chemical fields, having particular interest in polymer chemistry, coatings and catalysts. She has worked with a variety of clients from start-ups to multinational companies. Philippa is involved in the drafting and prosecution of both chemical and mechanical UK and European applications and has experience attending hearings before the European Patent Office.
Philippa has experience conducting freedom-to-operate reviews for infringement purposes. She strives to align clients' intellectual property protection with their commercial strategy.
Who are GJE?
Gill Jennings & Every (GJE) are a firm of European Patent, Trade Mark & Design Attorneys. We act throughout the UK and EU – through both our London and Munich offices.
We are recognised as a leading European IP firm by the Financial Times. In addition, we have received five Gold Awards for our work in the following industry sectors: Chemistry & Pharmaceuticals, Electrical Engineering, IT & Software, Materials & Nanotechnology, and Mechanical Engineering; as well as a Silver Award for our work in the Biotechnology and Food industries.
We work with an extensive and varied list of clients - from early-stage start-ups all the way through to global brands, and everyone in-between.
Clients include Procter and Gamble, producer of many of the UK's most well-known household brands. GJE prosecutes and defends a very active, high-value IP portfolio of currently over 1500 patents and patent applications across 70+ countries for the world's leading banknote supplier, De La Rue.
Some of our other well-known clients include:
MasterCard
Hasbro
Xerox
Micron Technology
Filing a well-prepared patent, trade mark or design registration may be critical to the future of your business. How it is written defines not just your innovation or identity but also the competitive landscape you wish to operate in. But there is more to intellectual property than filing a document. Other things to consider will include the amount of potential or unidentified IP in your business; the level of competition in your industry; licensing the technology to others; and key target markets. GJE's attorneys consider all these issues and provide solutions to both grow and protect your business.
Please submit the form to be sent the link to the webinar and submit any questions you would like answered within the session.